Spar Tree Raised–
Technique of the Past Used Today
Skeena Cellulose Ltd.
Terrace, British Columbia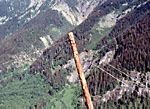 Spar going up.
Click for a larger version

FEI has been working with Skeena Cellulose Ltd. on various projects in the Terrace, B.C. area since 1993. A recent project required the raising of a spar tree to be used as an intermediate support. Originally, standing trees were to be used, but a freak, summer windstorm blew down the available trees.

It took careful planning, a lot of rigging, and hard physical work to get the spar ready. The base of the spar was securely fastened to an anchored log and when raised would rest on solid rock in a hole made by an uprooted tree. The top of the spar had five guylines and three chokers with blocks. These blocks were used by the mainline and haulback for additional lift and to control the movement of the spar.

The most difficult part was to get the spar started off the ground. A short "gin pole" was used to get some upward lift on the top of the spar. A double block purchase on the mainline (for lift) and a single block purchase on the haulback (for control) proved to be enough to get it started.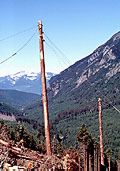 Vertical spar with "gin pole" hanging off of mainline.
Click for a larger version

"It was a real team effort for the Micro Forest Ltd. logging crew to raise the spar. Each crew member worked very hard to make it a success," said FEI's Stephen Aulerich, who directed the raising. Micro Forest Ltd.'s crew members included Tony Poole, Arnie Pelletier, Clay Horsburgh, and owner Ken Bernard. All that effort and hard work paid off when the spar started to rise off the ground. It was a beautiful sight and a proud moment for the crew seeing their efforts prevail. The spar they raised would access valuable timber, which might otherwise require a more expensive method. "The alternative to yarding the remaining 2000 m3 of felled and bucked with another system was not attractive. The only other option was to helicopter log at 2 1/2 times the cost," said Trevor Jobb, Skeena Cullulose. They gained valuable "cable logging" experience by using a technique from the past to help them meet today's logging challenges.