Multispanning Old Growth Douglas Fir
Hoopa Forest Industries
Hoopa, California

Jack Norton, Art Mastel and Clarence "Sling" Lewis
Click for a larger version

The Hoopa's land straddles the Trinity River in the northern coastal region of California, north and east of Arcata. Much of the timber located on the 92,000-acre tract is large Douglas fir that is being selectively harvested by cable systems as well as tractors.

FEI conducted a cable logging workshop for Hoopa Tribal Forestry in early June. In attendance were tribal foresters and layout personnel as well as two cable logging crews from HOOPA FOREST INDUSTRIES.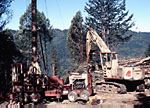 TMY 70 yarder landing. Notice leave trees near harvest area.
Click for a larger version

The three-day workshop, taught by Ed Aulerich, was followed by a one-day field investigation of the layout and logging. One of the topics covered that developed a lot of interest was the use of intermediate supports for multi-spanning.

The follow-up field investigation further enhanced the interest in the technique because of some definite convex ground and the loss of production due to lack of lift on the skyline.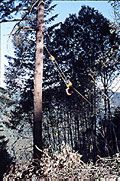 Single-tree intermediate support
Click for a larger version

This interest led to the actual installation and use of intermediate supports the following week on a TMY-70 Thunderbird and Danebo S-35DL carriage in old growth Douglas fir.

The multispan trolley and jacks were supplied by Richard VanDamme, Acme Manufacturing. Stephen Aulerich, FEI, selected suitable trees and trained the logging crew to use them safely and productively. Many of the logs were five-foot in diameter.